ALICE survey shows more than 30 percent of Muscatine residents face financial issues
MUSCATINE, Iowa – Many families in Muscatine struggle to make enough money to survive, according to a new statewide survey conducted by the United Ways of Iowa.
Between daycare, housing costs, college debt, and the need to feed their children, even families that are not below the Federal Poverty Level often need to postpone paying bills, stay home to avoid daycare costs, and hope that surprise complications do not dent their budgets beyond repair.
The study, ALICE, which stands for Asset Limited, Income Constrained Employed, and it examines not only families living below the poverty line, but beneath a threshold created by a household survival budget. Those households beneath the ALICE threshold may be actively working but still struggle to make ends meet.
More than 30 percent of Muscatine residents are facing financial hardships, according to the study.
To read the full article, please visit The Muscatine Journal.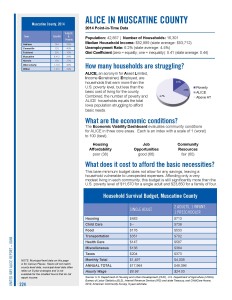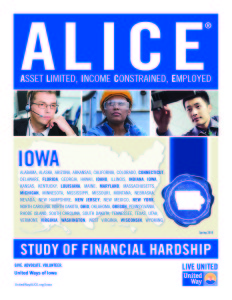 IA ALICE Muscatine County Page      IA ALICE Brief Exec Summary LR